Biodiversity protection
PKN ORLEN implements initiatives supporting biodiversity conservation and endangered species protection.

103-1

103-2

103-3

304-1

304-3

304-4
The Płock production plant site and the adjacent land are nature-rich areas and home to rare, and in some cases protected, species. This was confirmed by the botanists, ornithologists, ichthyologists and other scientists conducting a wildlife survey at that location and its adjacent area covering almost 1,300 hectares. The project team, assisted by naturalists of a consulting agency, conducted field observations of flora and fauna, Which served as the basis for mapping the most precious habitats and the most interesting species of invertebrates, fish, birds, and mammals. In total, nearly 290 animal and plant species inhabit the area, of which almost 160 are included in the International Union for Conservation of Nature's Red List of Threatened Species.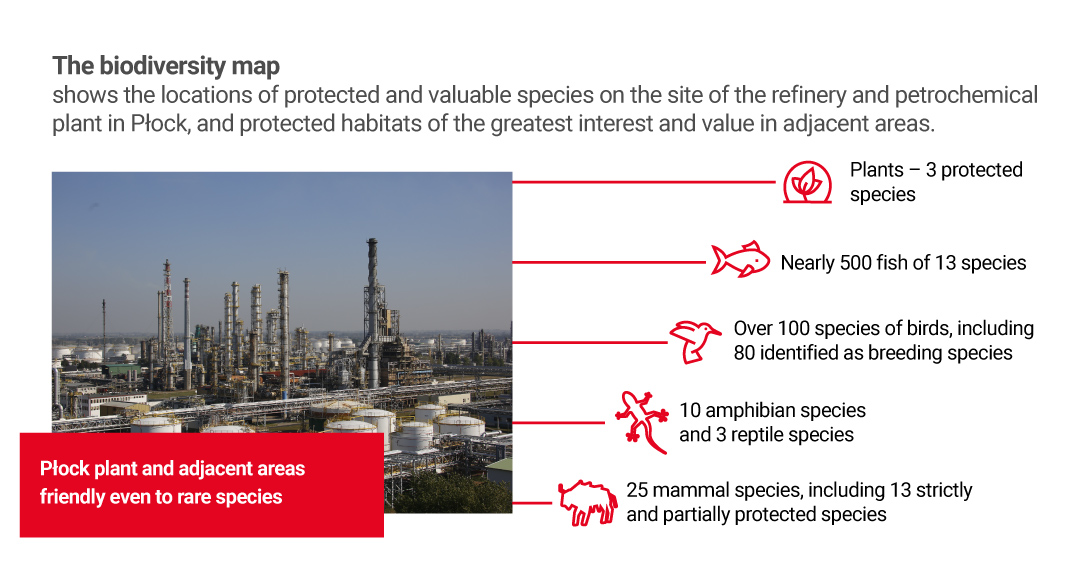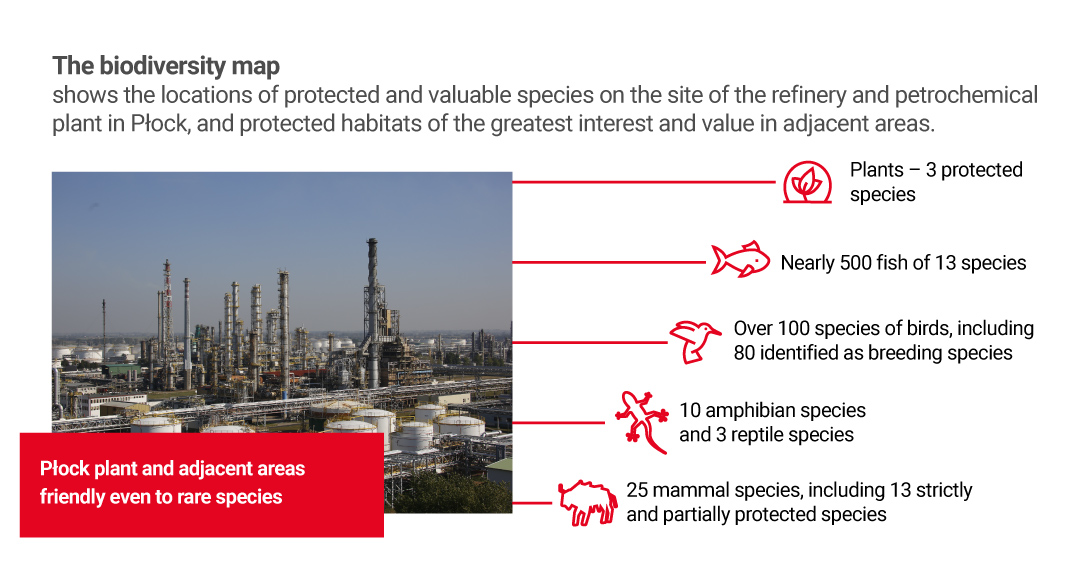 Similar surveys were conducted by ANWIL, Energa Group, ORLEN Unipetrol and Spolana. The list of species living near our plants includes many animals that are sensitive to the quality of the environment.
Energa OZE mitigates the impact of its hydroelectric power plants on biodiversity in lakes and rivers and monitors the effects of related activities, including through participation in regular restocking of rivers and lakes and installation of fish ladders at hydroelectric power plants.
Protected areas in which Energa OZE's plants and units are located:
| | |
| --- | --- |
| Protected areas | Number of areas |
| Natura 2000 Special Areas of Conservation | 10 |
| Natura 2000 Special Protection Areas | 7 |
| Nature Reserves | 2 |
| National/landscape parks | 3 |
| Protected landscape areas | 12 |
In 2021, Energa Elektrownie Ostrołęka commenced a project to investigate the impact of Ostrołęka B Power Plant on the ichthyofauna of the Narew river. The investigation aims to assess the current condition of the ichthyofauna and plan measures to eliminate potential adverse impacts of the power plant. As part of the Energy of Biodiversity initiative, a comprehensive environmental and educational project, wildflower meadows were sown to increase biodiversity. The project was implemented in Ostrołęka, where nearly 2.7 hectares of meadows were created on a combustion waste landfill site and in front of the company's head office.


Also, Energa Group companies, in collaboration with naturalists, undertake white stork conservation initiatives and related education projects in Poland. A programme to secure nests built by storks on low-voltage power poles have been in place for over two decades. The number of nest platforms installed in the area where Energa operates is about 12 thousand.

List of protected areas and areas of high biodiversity value where Energa Operator operates HV lines:
| | | |
| --- | --- | --- |
| Protected areas | Number of areas | Length of HV lines(km) |
| Landscape parks | 17 | 178 |
| Landscape parks buffer zones | 12 | 221 |
| Nature reserves | 12 | 5 |
| Nature reserve buffer zones | 6 | 5 |
| National park buffer zones | 1 | 5 |
| Protected landscape areas | 91 | 1,277 |
| Natura 2000 sites | 68 | 617 |
For the fifth time in 2021 PKN ORLEN joined a Responsible Care Programme initiative called Tree for a Bottle, where expired medications and electronic waste were collected from employees In exchange for a tree sapling, the symbol of the campaign, provided by the Responsible Care Programme secretariat. Over 1,000 tree saplings were distributed as part of the campaign.
PKN Recognising the problem of honeybee extinction, PKN ORLEN is actively engaged in honeybee conservation efforts, having established a partnership with the Warsaw Province Agricultural Advisory Centre (MODR) in Płock in 2017. Two apiaries with 20 hives and over 800,000 bees operate in the immediate vicinity of its plant. Also, a programme to protect the Kampinos breed honeybees was launched. Another apiary was set up in partnership with the Zootechnical Institute of Balice in the summer of 2021 for ten bee families. In collaboration with the Meadow Foundation, three wildflower meadows were planted in Płock, covering a total area of 22.5 acres, to increase local biodiversity, support pollinators and improve the local microclimate.
PKN PKN ORLEN works with the SOKÓŁ Society for Wild Animals, supporting the peregrine falcon conservation efforts in Poland.
The peregrine falcon is listed on the Polish Red List of Animals as a CR (critically endangered) species. The programme is a showcase of PKN ORLEN's long-term environmental initiatives. Falcons living on PKN ORLEN's premises are closely monitored all year long, based on inspections of nest boxes, video recordings and photographs of nesting falcons, as well as ringing of falcon nestlings. The monitoring enables continuous observation and regular checks, particularly during the breeding season, which is an exciting experience every year. Peregrine falcon nests are also to be found on the sites of ORLEN Unipetrol and ANWIL.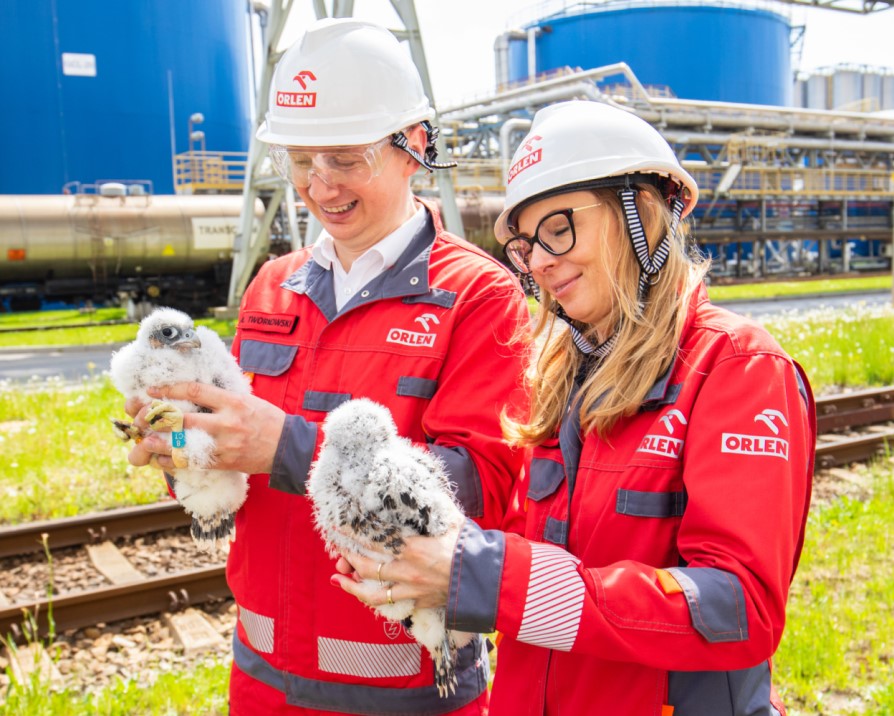 ANWIL runs other environmental initiatives, Including Mr Carp Restocks the Vistula. A programme singled out by the Ministry of Development as one of the 30 most valuable environmental projects of the last three decades.
The area around Spolana's plant, and the retention pond in particular, is a refuge for many protected and endangered species. The presence of otters, teals, kingfishers and trout, which are species very sensitive to the quality of the environment, indicates the site is clean. Since 2018, Spolana has been taking care of the bee hives located on the site of the former chocolate and saccharine factory, and regularly bottles floral honey of excellent quality, as confirmed by tests conducted by the accredited laboratory of the Beekeeping Institute.